There are a lot of pictures Jesus is knocking at the door. They are all in common. There is no door knob on the outside the door. The door knob is only on the other side.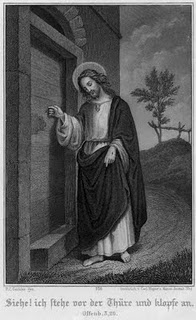 The door means our hearts. Unless we open the door, Jesus cannot enter the house. He knows us more than we know ourselves and is willing to help us. The Lord Himself wants to have close relationship with each one of us. We can share any problems with Him. He holds everything in His hands and leads us to the right way. Do you hear He's knocking at your heart?
The picture is based on the following verses of Revelation.
Those whom I love I rebuke and discipline. So be earnest, and repent. Here I am! I stand at the door and knock. If anyone hears my voice and opens the door, I will come in and eat with him, and he with me.(Revelation 3:19-20)

Thank you for reading and God bless you!
にほんブログ村